Rollover sensor for switching off the on-board electronics in trucks
The rollover sensor ST RS 1224-10 from Safety Trucks is a measuring device with an electronic sensor (also called rollover sensor) that measures the inclination of the vehicle. The integrated electronics for signal processing switches off the on-board electronics of the truck as soon as a certain inclination of the vehicle is reached. The sensor can be freely programmed to switch off the on-board electronics at which angle of inclination, after which time period and for how long.
The tilt switch is thus used for one- and two-dimensional monitoring of tilt angles in the range between ±180° or 0.... 360°. It is used in trucks (with hazardous goods), but also in agricultural and forestry machinery, commercial vehicles, motor sports cars, boats and yachts, cranes and hoists, industrial plants, solar thermal systems and photovoltaic systems.
The tilt switch is pre-programmed so that it switches from 45° and uses a relay to disconnect the on-board electronics from the battery. Optionally available is also the programming adapter, with which the switching thresholds and switching times can be individually configured. The switch can also be programmed by us according to your wishes.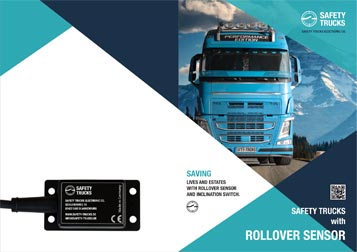 Brochure Rollover Sensor - Safety Trucks | (4.9 MB)